For my brother and sister in law's birthday(they're twins) I called and asked what their favorite treat was. Tuni, my cute SIL said she loved plain white cupcakes, no frosting. So I obliged. But I had to frost some of the cupcakes because, to me, a cupcake just isnt a cupcake without the perfect ratio of cake to frosting
I colored the frosting green, yellow, and red - like the Ethiopian Flag because Miki and Tuni (the birthday twins) are from Ethiopia... And every time I see Miki, he's wearing something with those colors. I flavored the yellow frosting with some lemon juice for my husband who loves flavor.
I've made many white cakes before and I've never been very pleased. This time, I think I found my winner. This cake was light, moist, and had a good flavor. I even enjoyed a frosting-less one!
I didn't love the frosting, but I think that's because I love cream cheese frosting so much and think that every frosting should be made with cream cheese. This frosting had a great thick consistency and didn't melt in the warm sun at our BBQ. My husband said it was delicious, so if you like buttercream frosting, this was a good one.
White cupcakes:
Ingredients
1 cup white sugar
1/2 cup butter
2 eggs
2 teaspoons vanilla extract
1 1/2 cups all-purpose flour
1 3/4 teaspoons baking powder
1/2 cup milk
Directions
1. Preheat oven to 350 degrees F (175 degrees C). Grease and flour a 9x9 inch pan or line a muffin pan with paper liners.*
2. In a medium bowl, cream together the sugar and butter. Beat in the eggs, one at a time, then stir in the vanilla. Combine flour and baking powder, add to the creamed mixture and mix well. Finally stir in the milk until batter is smooth. Pour or spoon batter into the prepared pan.**
3. Bake for 30 to 40 minutes in the preheated oven. For cupcakes, bake 20 to 25 minutes. Cake is done when it springs back to the touch.***
Tips:
*After placing cupcake liners in muffin pan, spray the whole pan with cooking spray. This will ensure that the cupcakes come out of the paper lining without sticking and also if your cupcakes bake over the edge, they won't stick to the top of the pan.
**I use a
Pampered Chef scooper
to fill my muffin tins. 2 scoops are just right. There are 3 positives to this: 1. I never have a cupcake cook over the rim. 2. All of my cupcakes are uniform in size. 3. I never drip batter all over the muffin tin.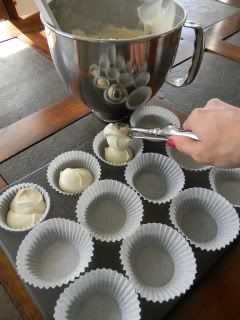 ***You do not want to overcook these! They will be dry and crumbly if you do. They should have hardly any golden color to them. Usually I just knock my oven a little to see if they're jiggling. As soon as the jiggling stops, they're done.
Buttercream Frosting
Ingredients
2 cups shortening
8 cups confectioners' sugar
1/2 teaspoon salt
2 teaspoons clear imitation vanilla extract (I just used regular because I was dyeing my frosting.)
6 fluid ounces heavy cream
Directions
1.Cream shortening until fluffy. Add confectioner's sugar and continue creaming until well blended.
2.Add salt, vanilla, and whipping cream blend on low speed until moistened. Add additional whipping cream if necessary (up to 2 ounces). Beat at high speed until frosting is fluffy.