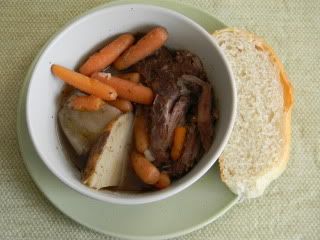 Pot Roast is one of the easiest dishes you can ever make. The reason I know this(other than the fact that I've made it) is because it is one of the five dishes that my mom made that didn't require a microwave or tipping the waiter (or hamburger helper... puke). The easiest way to do this is to brown beef roast in a pan on the stove, then put it in a crock pot with onions and carrots, cover with water and cook for 4 hours. After 4 hours, add large chunks of whole potatoes and cook one more hour. That's it. I love this dish for its simplicity and its flavor, but wanted to see if I could improve upon it. Turns out I can and I can't. By that I mean, the recipe I found did make it taste better, but I still prefer my mom's version because it tastes like home to me and reminds me of my amazing momma. So, you can either make the above version, or spend about 30 more minutes to make it have a more rich flavor and possibly a prettier presentation.
I'm going to post the recipe below, but I suggest you head on over to
Pioneer Woman's
website and check out her step by step instruction with awesome pictures. I did some things differently and those alterations are below the recipe.
Ingredients
■1 whole (4 To 5 Pounds) Chuck Roast
■2 Tablespoons Olive Oil
■2 whole Onions
■6 whole Carrots (Up To 8 Carrots)
■Salt To Taste
■Pepper To Taste
■1 cup Red Wine (optional, You Can Use Beef Broth Instead)
■2 cups To 3 Cups Beef Stock
■3 sprigs Fresh Thyme, or more to taste
■3 sprigs Fresh Rosemary, or more to taste
Preparation Instructions
First and foremost, choose a nicely marbled piece of meat. This will enhance the flavor of your pot roast like nothing else. Generously salt and pepper your chuck roast.
Heat a large pot or Dutch oven over medium-high heat. Then add 2 to 3 tablespoons of olive oil (or you can do a butter/olive oil split).
Cut two onions in half and cut 6 to 8 carrots into 2-inch slices (you can peel them, but you don't have to). When the oil in the pot is very hot (but not smoking), add in the halved onions, browning them on one side and then the other. Remove the onions to a plate.
Throw the carrots into the same very hot pan and toss them around a bit until slightly browned, about a minute or so.
If needed, add a bit more olive oil to the very hot pan. Place the meat in the pan and sear it for about a minute on all sides until it is nice and brown all over. Remove the roast to a plate.
With the burner still on high, use either red wine or beef broth (about 1 cup) to deglaze the pan, scraping the bottom with a whisk to get all of that wonderful flavor up.
When the bottom of the pan is sufficiently deglazed, place the roast back into the pan and add enough beef stock to cover the meat halfway (about 2 to 3 cups). Add in the onion and the carrots, as well as 3 or 4 sprigs of fresh rosemary and about 3 sprigs of fresh thyme.
Put the lid on, then roast in a 275F oven for 3 hours (for a 3-pound roast). For a 4 to 5-pound roast, plan on 4 hours.
My alterations:
First - and, I feel most importantly, - you need to know that I threw everything in the crockpot and went to a petting zoo with my boys for the day. I was able to set my crock pot for 4 hours and it then turned to the warm setting until I came home. I turned it back on low and put the potatoes in for one more hour.
Second, did you notice I said I put the potatoes in? Pioneer Woman is anti potatoes-in-pot-roast. She thinks they are dumb. I think she's dumb. Ok I don't really, I think she's awesome, but I think the fact that she doesn't like potatoes in her pot roast is
super
dumb. That's one of my favorite parts! She served her pot roast with mashed potatoes, which I'm sure was lovely, but that's not how I was raised.
Third, I just used dried herbs and it was fine. If you have the fresh herbs, awesome. If not, no biggie. Just use a small amount - like maybe 1/2 tsp of each and it'll still taste fab.
P.S. Serve your pot roast with
this
and you'll have a very happy belly.