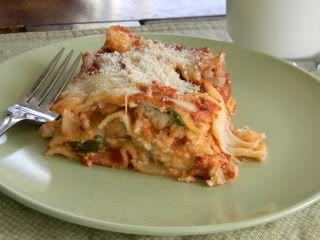 I'm not sure I know a single person who doesn't LOOOVE lasagna. (If you happen to be reading this and you are someone who does not like lasagna... I no longer know you. You are dead to me.) Lasagna is magnificent. It has everything wonderful going for it: it's warm, gooey, cheesy, saucy, noodley, and Italian. All things that I love. Plus - and this is definitely high on the list of positives - it's extremely easy to make!
I know you can complicate this recipe by making your own sauce, using noodles you have to boil, and grating fresh Parmesan, but really - it would probably taste exactly the same and add at least another hour of prep time. So do it the easy way and you'll have more time to play with your kids. Or, in my case - tackle the mound of laundry on the coffee table while sending my kids outside to play. Tomato/tomato, right?
Ingredients:
2 (15 ounce) containers ricotta cheese
2 cups shredded mozzarella cheese
1/2 cup grated Parmesan cheese
2 eggs
4 cups fresh spinach
2 (26 ounce) jars pasta sauce
12 uncooked lasagna noodles
Directions:
1. Preheat oven to 375 degrees F. Combine ricotta, 1 cup mozzarella, 1/4 cup Parmesan cheese and eggs in bowl.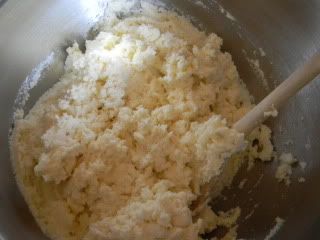 2. Spread 1 cup pasta sauce in 13 x 9-inch baking dish. Layer 4 uncooked noodles, then 1 cup sauce and 1/2 of the ricotta mixture, and two cups spinach; repeat.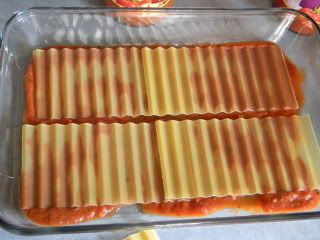 Top with remaining 4 uncooked noodles and 2 cups Sauce.
Cover tightly with aluminum foil, place on cookie sheet, and bake 1 hour.
3. Remove foil and sprinkle with remaining cheeses. Bake uncovered an additional 10 minutes, just until cheese is melted. Let stand 10 minutes before serving. Serve.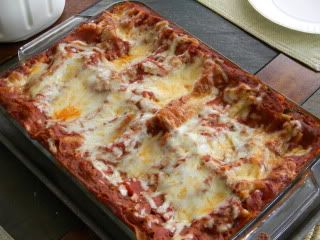 Tips and Alterations:
-When spreading the ricotta cheese mixture, don't just dump half of it in the pan or you'll have a hard time getting it spread evenly. Drop by spoonfulls evenly over the pan and then spread.
-You can brown a pound of ground beef or Italian sausage (or both) and add that to the sauce before assembling. I don't think lasagna needs meat, but I know there are some people in this world, *ahem-men-ahem* who don't think a dinner is a dinner unless it has some butchered creature lying dead on their plate. Just make sure you use a bigger dish, or you'll have some over-spillage.
-Also, the spinach was just something I added, but the recipe doesn't actually call for it. So if your kids won't touch something green with a ten-foot pole, you can either omit the spinach, or just spread it on half of the lasagna.
-Lasagna is one of those awesome dishes that I like to double. That way we have one to eat tonight and one to freeze for another day. If you're making one pan of lasagna, you might as well be making two. So after you've covered it in foil, but before placing in the oven, take a roll of plastic wrap to it and wrap the heck out of it... think Kathy Bates in Fried Green Tomatoes. Then, on the morning of a busy day, take it out and let it sit on the counter until you're ready to cook it.