More ugly cell phone pics... but they sure were pretty cakes!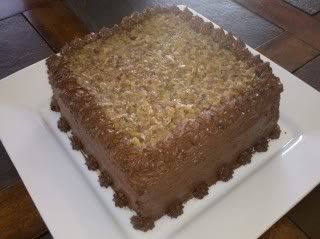 Buckle up kids, we're in for a loooong ride...
For my husband's birthday this last January, we did a joint BBQ with his awesome friend, Trever. I told the hubs I'd make him any dessert he wanted - even if I didn't like it. So he chose German Chocolate Cake. I don't love coconut, so I'd never had a German Chocolate Cake that I liked, but I wasn't going to let that stop me. He said it was amazing, and I actually liked it. It is not a very quick thing to make, but well worth the time. I found some recipes that included all three parts, but the reviews were never great for all three. I ended up just combining 3 different recipes.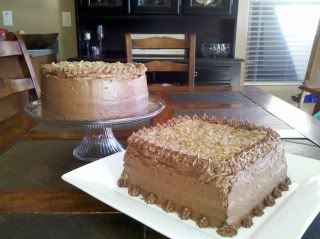 Cake recipe:
Ingredients
4 (1 ounce) squares German sweet chocolate (You can find these in the baking aisle of the grocery store)
1/2 cup water
2 cups all-purpose flour
1 teaspoon baking soda
1/4 teaspoon salt
1 cup butter, softened
2 cups white sugar
4 egg yolks
1 teaspoon vanilla extract
1 cup buttermilk
4 egg whites
Directions:
1. Preheat oven to 350 degrees F (175 degrees C). Line bottoms of 2 - 9 in pans with parchment paper.
2. Microwave chocolate and water on high for 1 1/2 to 2 minutes. Stir halfway through. Stir until all is melted and smooth.
3. In a medium bowl, mix together flour, soda and salt. Set aside.
4. In a large bowl, cream 1 cup butter and 2 cups sugar until light and fluffy. Add 4 egg yolks one at a time, beating well after each addition. Stir in chocolate and 1 teaspoon vanilla. Add flour mixture alternately with buttermilk. Beat after each addition until smooth.
5. In a separate bowl, beat egg whites on high until soft peaks form. Gently fold into batter. Pour into 9x13 inch pan.
6. Bake at 350 degrees F (175 degrees C) for 25-30 minutes, or until toothpick inserted into center of cake comes out clean. Cool 5 minutes, turn out to cool on wire rack. Cool completely.
Chocolate Frosting - This is a GREAT and easy recipe to use for anything:
Ingredients
2 cups butter (no substitutes), softened
9 cups confectioners' sugar
2 1/2 cups baking cocoa
1 teaspoon vanilla extract
1 cup milk
Directions
1.In a large mixing bowl, cream butter. Gradually beat in confectioners' sugar, cocoa and vanilla. Add enough milk until frosting reaches spreading consistency.
Coconut Frosting:
Ingredients
1 cup evaporated milk
1 cup white sugar
3 egg yolk, beaten with 1 teaspoon water
1/2 cup margarine
1 teaspoon vanilla extract
1 cup chopped pecans
1 cup flaked coconut
Directions
1.In a large saucepan combine evaporated milk, sugar, egg yolks, margarine and vanilla. Cook over low heat, stirring constantly, until thick. Remove from heat and stir in pecans and coconut. Cool before assembling cake.
To assemble the cake place one cooled cake on a plate. Spread cake with a thin "crumb layer" of chocolate frosting. Pipe a circle of frosting on the edge of the top of the cake, not going farther than 1" in. This is to keep the coconut frosting from spilling out between the two cake layers. Spread half of coconut frosting on the middle of the cake all the way to the lip of frosting. Place second cake layer centered over the first. Again, cover top layer in a thin "crumb layer" of chocolate frosting. Pipe another ring of chocolate frosting on the outer edge of the top of the cake. Spread remaining coconut frosting on the top to the edge of the upper cake. Frost and decorate with remaining chocolate frosting.
Enjoy!