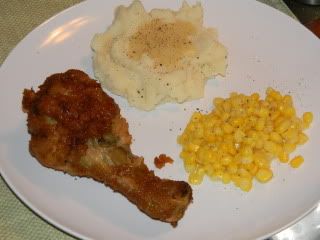 I know the picture's not the best and we're missing southern biscuits, but use your imagination. My husband got halfway through making fried chicken when we remembered we had somewhere to be in 20 minutes. So he hurried up and finished, we zipped over to our previous committment (hungry), and then hurried back (very hungry) to have a late 8 o'clock - reheated dinner. And it was still fantastic.
Chicken Fried Chicken
Ingredients
30 saltine crackers
2 tablespoons all-purpose flour
2 tablespoons dry potato flakes
1 teaspoon seasoned salt
1/2 teaspoon ground black pepper
1 egg
1/4 cup vegetable oil
6 skinless, boneless chicken breast halves
Directions
1.Place crackers in a large resealable plastic bag; seal bag and crush crackers until they are coarse crumbs. Add flour, potato flakes, seasoned salt, and pepper to bag and mix well.
2.Beat egg in a shallow dish or bowl; heat oil in a large skillet over medium high heat.
3.One by one, dredge chicken pieces in egg beat, then place in bag with crumb mixture, seal bag and shake to coat.
4.Reduce heat to medium and cook coated chicken in skillet for 15 to 20 minutes, turning frequently, until golden brown and juices run clear.