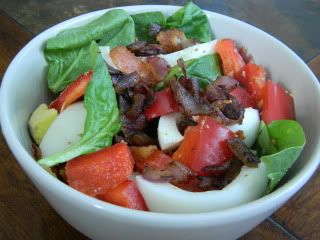 MMMMMMMMmmmmmmmm
Yum
There are so many ways to make Cobb Salad. My way uses 4 of my all time favorite foods...

Eggs: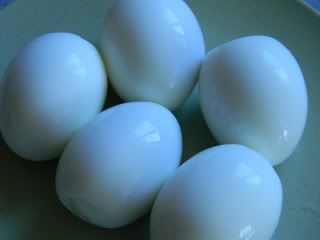 Red Bell Peppers: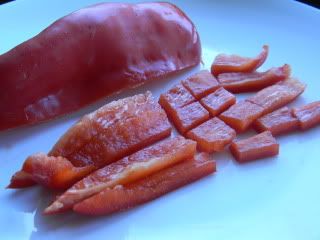 Bacon... drool: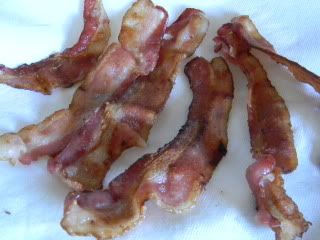 And Onions?
NOOOOO.
Spinach. But I forgot to take a picture of it. So instead you have to look at the picture of one of natures nastiest creations. Onions. *shudder*
I have plenty of bad things to say about onions, but I do have some good to say about them. I like their flavor when they are diced REALLY small and cooked in recipes as a seasoning. I do not like to bite into them. I also do not like to peel them or cut them, and I especially do not like to roll over in the middle of the night and smell them on my husbands breath. Eww. Suffice it to say we're both grateful for a king size bed on those nights. Bleh.
However, my husband was out of town and I got brave this week. I saw a yummy recipe on Pioneer Woman for a
spinach salad
. Most Cobb Salad recipes use fresh, raw red onions. But Pioneer Woman cooked her onions before adding them to her salad. So I decided to try that.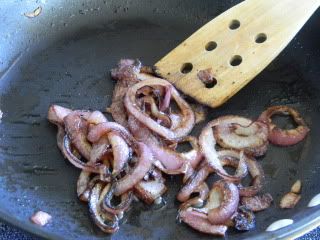 Don't they look a little like dead earthworms? Well they tasted just as gross. But, if you love onions, I think you'd love this addition. I had to pick mine out. My bravery only goes so far.
Moving on... Cobb salad is a great dinner to have on a busy summer day. All of the ingredients can be prepared in the cool morning and then tossed with dressing right before it's time to eat. If you like your bacon warm, you should probably fry that up just before serving, but the eggs can be boiled and refrigerated, the bell peppers washed and cut, the spinach washed and stems pulled off all before the day heats up. Oh yeah, and if you want to fry some onions you should probably do that just before serving. Yuck.
Ingredients:
6 cups fresh spinach
1 red bell pepper
6 eggs
8 slices of bacon
1 red onion(optional!)
salad dressing
Directions:
1. Boil eggs(check out my tutorial for
Perfectly Boiled Eggs
).
2. Slice onions in 1/4 in. slices. Separate rings and set aside.
3. Fry bacon on both sides in a hot skillet until crispy and remove to drain on paper towels. Drain 1/2 of bacon grease from pan and add onions. Fry onions until "caramelized and reduced" - a la Pioneer Woman. Set aside.
4. Wash spinach. Remove stems. Wash and dice bell pepper. Slice eggs.
5. Assemble salad: Place spinach in bowls. Add bell peppers, eggs, onions, and bacon. Drizzle with your favorite dressing.
*My kids prefer Ranch Dressing with everything, so for us, cobb salad is always served with Ranch. We have this awesome onion dressing, and since I was being bold, I tried it on my salad. Delish!