notice the paper plate? we were celebratin' and eatin' real fancy-like that night...
This recipe was one of the first meals I learned to cook as a newlywed. I went to a Pampered Chef party and fell in love! Because I was too lazy to type it up, I googled it and found a very slightly different recipe. I've changed everything to be more like mine, with one difference: The last step says to arrange chicken strips over the top of the pizza. My recipe has all of the chicken mixed in to the cream cheese mixture, but I think I'll switch to this new way. I like to try new things. Keeps me young.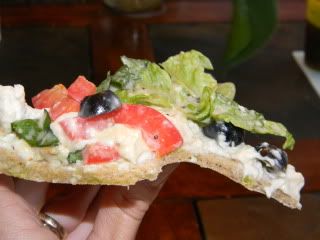 Chicken Caesar Salad Pizza
Recipe:
1 Pizza Crust (I have two favorites: white flour
Here
and wheat flour
Here
Salad Toppings
2 ounces fresh Parmesan cheese, grated, divided (1/2 cup)
1/2 cup fat-free Caesar salad dressing
1 teaspoon Lemon Pepper Seasoning Mix
1 garlic clove, pressed
1 package (8 ounces) fat-free cream cheese, softened
3 boneless, skinless chicken breast halves, cooked (about 12 ounces)
4 cups romaine lettuce, thinly sliced
1/2 cup red bell pepper, chopped
1 can (3.5 ounces) pitted ripe olives, sliced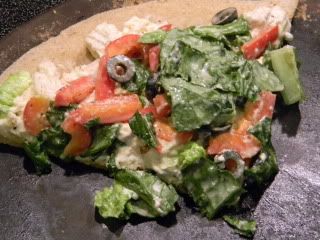 1. Make pizza dough and cook until crust is golden brown; remove to cooling rack.
2. Grate Parmesan cheese. In small bowl, combine 1/4 cup of the cheese, dressing, lemon pepper, and garlic; mix well.
3. Place cream cheese in a bowl; add half of the dressing mixture and mix well. Chop half of the chicken; add to cream cheese mixture. Slice remaining chicken into thin strips; set aside.
4. Slice lettuce and chop bell pepper. Slice olives. Place lettuce, bell pepper and olives in large colander bowl. Add remaining dressing mixture; toss to coat.
5. Spread cream cheese mixture over crust. Top with salad mixture. Arrange chicken strips over salad; sprinkle with remaining Parmesan cheese. Cut with a pizza cutter; serve.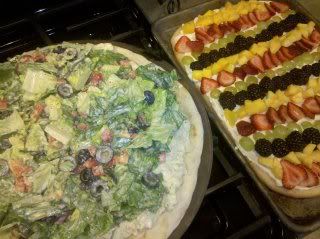 I made this for Father's Day last year with a fruit pizza... Yum!