This post is the first in a series of ugly cell phone pics. I will replace them with stellar pictures when I make the recipe again. I took these pictures in between the death of my blog and the resurrection of my blog. So, please forgive the ugly pictures and pretend they are Pioneer Woman quality. (Because we all know if I took the with a regular camera, they would DEFINITELY be that good, right? Totally.) And just know they tasted ten times better than they look. Maybe eleven times.
I made this carrot cake for Easter Sunday last year. It's a hearty cake with lots of good stuff inside. I very firmly believe that nuts and baked goods do
not
go together. But, if you like to feel like you're eating tree bark cake, then feel free to add those. And don't forget to throw some cream cheese frosting on top!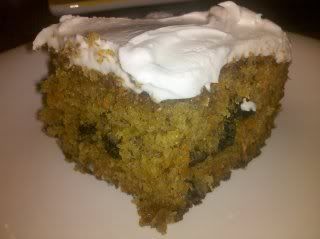 Ingredients:
3 eggs
3/4 cup buttermilk
3/4 cup vegetable oil
1 1/2 cups white sugar
2 teaspoons vanilla extract
2 teaspoons ground cinnamon
1/4 teaspoon salt 2 cups all-purpose flour
2 teaspoons baking soda
2 cups shredded carrots
1 cup flaked coconut
1 cup chopped walnuts
1 (8 ounce) can crushed pineapple with juice
1 cup raisins
Directions:
1. Preheat oven to 350 degrees F (175 degrees C). Grease and flour an 8x12 inch pan.
2. In a medium bowl, sift together flour, baking soda, salt and cinnamon. Set aside.
3. In a large bowl, combine eggs, buttermilk, oil, sugar and vanilla. Mix well. Add flour mixture and mix well.
4. In a medium bowl, combine shredded carrots, coconut, walnuts, pineapple and raisins.
5. Using a large wooden spoon or a very heavy whisk, add carrot mixture to batter and fold in well.
6. Pour into prepared 8x12 inch pan, and bake at 350 degrees F (175 degrees C) for 1 hour. Check with toothpick.
7. Allow to cool for at least 20 minutes before serving.